Cellulean

Review
Rated:
3

out of

10


by

CelluliteCreams.net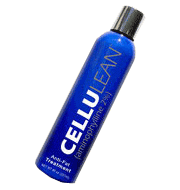 Cellulite needs no introduction since most women are very familiar with its dimpled, fatty appearance showing up on the abdomen thighs and buttocks. Because it is as common as hated, a myriad of products and creams have sprung up with claims of getting rid of cellulite for good.
We have put together research and results to reveal the effectiveness of some of the most popular cellulite creams! One such product is called Cellulean. Below is our evaluation of Cellulean: ingredients, cost, effectiveness, and final results.
What is Cellulean?
Right off the bat, we were excited about Cellulean. After all, their website showcases legitimate news stories on Cellulean. Granted, they are all local news stories, but we thought that was a pretty good start. Cellulean promises their proprietary blend of drugs and natural ingredients work where other cellulite treatments fail. In addition, the makers of Cellulean believe Cellulean can achieve beautiful, cellulite-free legs in just one month - think that's a big claim to live up to? We thought so too.
Cellulean Ingredients
The main ingredient in Cellulean is a pharmaceutical drug used primarily for asthma called aminophylline. Used as a topical agent, aminophylline does not require a prescription and so Cellulean contains a full 2% solution of the drug. While those local newscasts reported that aminophylline shows promise, they failed to provide solid information supporting this claim. We remained hopeful that at least some ingredients in Cellulean actually remove cellulite. Other Cellulean ingredients include:
Green Tea - a good antioxidant but not a fat reducer.
Aloe Vera - works very well to create smooth skin on the surface, but doesn't penetrate to cellulite.
Ginkgo Biloba - misspelled on the Cellulean website, it is has no topical applications and when taken orally, ginkgo biloba causes increased bleeding, stomach pain, nausea, vomiting, headaches, and heart palpitations.
Hedera Helix Ivy - English ivy contains toxins that can cause serious skin allergies, rash, and dermatitis.
Vitamin A - important for skin health, but doesn't reduce cellulite.
Menthol - a topical analgesic with a strong odor.
Capsaicin - applied topically, helps with minor aches and pains.
Macadamia Nut - oil is prized as a cosmetic ingredient but does nothing to fat.
Fennel Seed - has no legitimate topical uses.
Vitamin E - necessary for healthy skin and helps to improve circulation.
Shea Butter - great moisturizer but provides no treatment for cellulite.
Bladderwrack - removes fluids that become trapped under layers of skin.
Cupressus - a form of cypress with no discernible medicinal properties.
Allantoin - derived from cow urine, allantoin smooths the skin but does not penetrate.
Buy Cellulean
Cellulean sells for $69.95 for a 30-day supply. While this is very steep, Cellulean does offer a "free trial." However the product must be returned and the trial must be canceled within 14 days. This is probably due to Cellulean's auto ship program. Auto ship means if you don't cancel by a certain period your credit card will be charged the full price of the product and you will continue to get a new shipment of product every month. The trouble is that some companies make it difficult to get into contact with them to cancel in time. Coincidentally, Cellulean claims results won't appear until two weeks, which gives you little to no time to return and cancel the free trial. It's important to check consumers' dissatisfaction with a company by going to consumer sites like RipOffReport.com.
Cellulean is sold directly on the Cellulean website, but can also be found on Amazon.com.
Does Cellulean Work?
Though Cellulean managed to get a few local news stations to report positively on their product, reactions from disappointed customers told another story. Customer satisfaction was rated at 1 out of 10. Our results fared no better. Cellulean only contains one known cellulite fighting ingredient, bladderwrack. However this inclusion simply isn't enough to get rid of cellulite, and at best Cellulean makes a good moisturizer. To discover what we found to be the most effective cellulite cream, go ahead and read our cellulite cream reviews now.