Nivea Goodbye Cellulite

Review
Rated:
7.32

out of

10


by

CelluliteCreams.net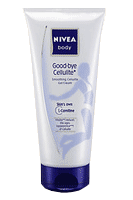 Goodbye Cellulite Cream is Nivea's foray into the world of cellulite treatment. Nivea is a renowned brand and their lotions are both prestigious and highly rated. We wanted to find out if Goodbye Cellulite cream delivers on its promises to get rid of cellulite. We looked not only at the effectiveness of Nivea Goodbye Cellulite, but also the ingredients and overall value. While Nivea is a company that stands behind its products and has for the most part an admirable line of products, it's unfortunate their cellulite cream doesn't quite match up.
What is Nivea Goodbye Cellulite?
Nivea Goodbye Cellulite is new to the market and our reviewers were among the first to extensively test the product. Nivea Goodbye Cellulite promises to visibly firm the skin in 2 weeks and reduce cellulite in 30 days, targeting the stomach, thighs, and buttocks. It can be used alone or as part of a system that includes patches and dietary supplements. Nivea likes to emphasize the fact that its products are developed and produced in France, but our reviewers could find no benefits in this.
Nivea Goodbye Cellulite Ingredients
Nivea Goodbye Cellulite ingredients are modest and they overdo it, which is always a plus. However, we could not find many other advantages in their choice of formulation. Nivea Goodbye Cellulite contains:
Denatured alcohol - an antifungal additive.
Cyclomethicone - a fancy name for silicone companies use when they don't want you to know its silicone. The International Journal of Toxicology reports it is safe but is not absorbed by the skin
Glycerin - provides only lubrication properties
Methylpropanediol - a common ingredient in anti-aging creams that seems safe but has not been fully tested.
Carnitine - an amino acid that metabolizes fat. Of the ingredients in Nivea Goodbye Cellulite, carnitine is the only one that is effective. The National Institute of Health states that carnitine supports mitochondrial health, the decline of which causes premature aging.
Carrageenan - another lubricant.
C10-30 Alkyl Acrylate Crosspolymer - Lubrizol, a company that makes this ingredient says its use is in bonding other ingredients together in a gel. Its safety has not been fully tested.
Carbomer - a chemical thickening agent.
Sodium Polyacrylate - another chemical thickening agent and lubricant.
Dimethiconol - another chemical lubricant which is also a main ingredient of Silly Putty.
Sodium Hydroxide - a caustic chemical used in detergent and drain cleaner.
Phenoxyethanol - an oily ingredient in some skin care products linked with central nervous system depression, vomiting, and diarrhea. Its use is severely restricted in Japan.
Buy Nivea Goodbye Cellulite
Nivea Goodbye Cellulite is sold online and in many drug stores across the U.S. A 6.7 oz bottle meant to be good for 30 days goes for an average of $19.99. Like most large health and beauty aid companies, Nivea does not offer any free trials on their products. Dissatisfied customers can return the product, but there is no guarantee of a refund should it not work.
Does Nivea Goodbye Cellulite Work?
We were excited about Nivea Goodbye Cellulite in the beginning. After all, Nivea is a tried and trusted company with a great lotion formula. Nivea Goodbye Cellulite just doesn't stand up to their other products and in comparison with more effective anti-cellulite it contains too many chemicals for our liking.
Many of the chemical ingredients in Nivea Goodbye Cellulite are redundant and untested. To find a better cellulite cream that is actually effective in reducing cellulite, visit the cellulite cream reviews page now.