L'Oreal Cellulite Cream

Reviews
Rated:
3

out of

10


by

CelluliteCreams.net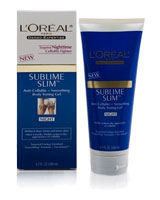 Cellulite is a fact of life for almost 90% of adult women, including celebrities and physically-fit women with low body fat. The female body's structure of the skin and stored fat is such that the rippled cottage-cheese appearance is highly likely to occur. While cellulite can't be totally eradicated, there are measures that you can take to reduce its appearance, sometimes to the point where it is no longer visible with the naked eye.
Cellulite creams are one method by which cellulite can be controlled, but there is a huge number of product offerings in this market, and some are not as effective as others. We have analyzed the top-selling cellulite creams to help you determine which can deliver the results that they promise, and which are just a waste of your time and money.
Ingredients in L'Oreal Sublime Slim
Paris-based L'Oreal is one of the top names in health and beauty products, and their cellulite cream is fairly popular. We were curious as to how much of the popularity of L'Oreal cellulite cream was due to the actual product and how much was due to L'Oreal's famous brand name.
L'Oreal has a few different lines of cellulite creams, which include Day and Night, Sublime, and ABS. The scientific basis of L'Oreal's products is that the ingredients in the creams increase the metabolic rate within the cells located at the point of application. This boost to the metabolism helps to reduce the deposits of fat within the areas of cellulite and to increase the circulation of blood, as well. The combination of actions results in more toned skin and a reduction in the appearance of cellulite.
The specific ingredients in L'Oreal cellulite creams include wheat germ, olive, caffeine, and ground nuts. While these ingredients are safe to use, except for women with specific ingredients to these substances, they aren't as effective as the combination of ingredients in some of the other top-rated cellulite creams. In fact, the directions with L'Oreal's cellulite creams state that the product must be used for a minimum of four weeks to start to see any results. Users from L'Oreal cellulite cream reviews have reported that it actually takes closer to eight weeks to see even a slight improvement in their cellulite, if they were able to notice any improvement at all.
Where to Buy L'Oreal Cellulite Cream
Probably the best news about L'Oreal cellulite creams is that they are reasonably priced. Most tubes are priced in the $10 to $20 range, with some merchants and eBay sellers offering discounts when multiple quantities are purchased. L'Oreal's anti-cellulite products are also available at many local retailers who carry a range of health and beauty products.
Does L'Oreal Cellulite Cream Work?
While L'Oreal's pricing is favorable, any amount of money is too much to pay for a product that doesn't measure up to its claims. While some users were able to detect a slight difference in the appearance of their cellulite after using the product for two months or more, other product testers could not see any positive result. Other top-rated cellulite creams seem to be much more effective at making a measurable difference in the appearance of cellulite.
Read our cellulite product reviews now to learn which is the best cellulite cream for you.